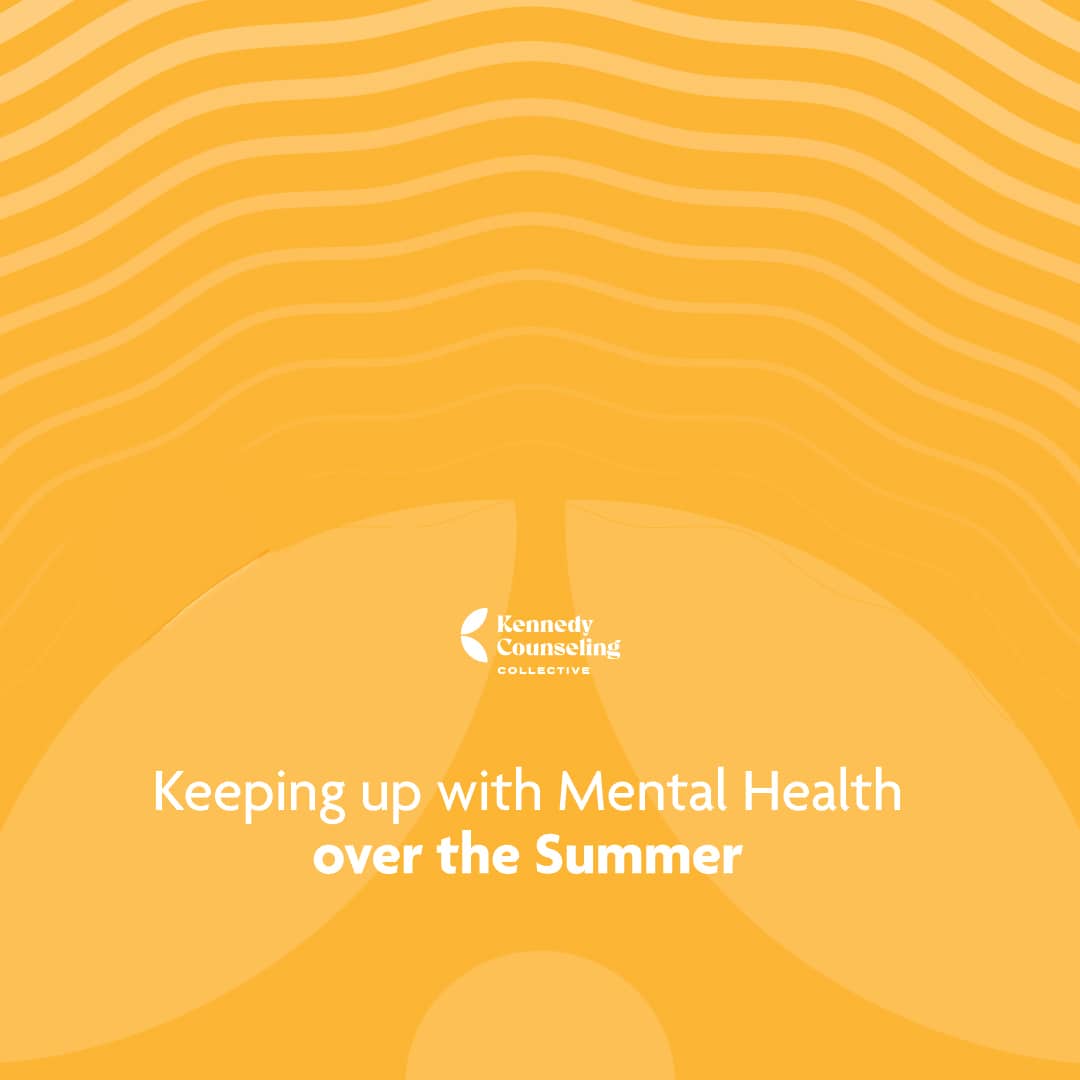 Summer brings warmth and joy, but don't forget to prioritize your mental health amidst the sunshine. Consistency is key, though it's easy to let excitement and travel plans get in the way of maintaining your mental health routine throughout the season. The sun is out and you may be feeling the buzz of summer energy, but don't ditch your routine! Embrace the summer while nurturing your inner self. You can do solid work when you're feeling good. Plus, your routine of the summer will help carry you through yet another winter.
If you're traveling this summer, you can still keep up with your sessions! Virtual therapy is a wonderful way to avoid letting your mental health fall to the wayside during a busy summer season. Virtual therapy comes to you, wherever you are, whatever you're going through.
When you're traveling, especially in a situation that you may feel anxiety about, consider keeping your appointment virtual to get some calm while you're away. Here are a few tips on maintaining privacy during virtual therapy:
Find a quiet room: Having a virtual therapy session is most commonly done from the comfort of the patients home (or travel lodging). Find a quiet room and let your housemates know that you need privacy for an hour and not to knock unless it's an emergency. You can enhance your privacy with a white noise machine outside your door. If you don't have that, a speaker will do the trick. Having this added level of noise-cancellation can help put your mind at ease while you talk freely with your therapist. 
Go to the car: If there isn't a space in your house where you feel enough privacy, but you do have a car, that's a great alternative. Just remember to remain stationary for safety purposes. Sitting in your for a therapy call car offers familiarity, privacy, and comfort. Best of all, you don't have to worry about anyone overhearing, knocking on your door, or barging in.
Walk & talk: Many people naturally find themselves pacing when on the phone. Sometimes walking and talking can calm nerves and induce a more natural flow of conversation. Consider taking your next virtual therapy session on-the-go as you stroll through local streets or a nearby nature trail. Pro tip: headphones might be a good idea – and make sure you're all charged up before you go!
Take it to the park: If you prefer to be seated during therapy, but don't feel you have a private space in your home, then a local park could be a wonderful place to sit for a virtual session. Bring a blanket, or find a bench, and take in the fresh air. You can even bring snacks and a book to hang out for a while after your session. P.S. Make sure your device is charged before you go as you'll be hard pressed to find an outlet in the park!
Ask your housemate for some space: For some people, taking a virtual therapy session while walking around or sitting in the park doesn't feel quite private enough. Taking a call with housemates in the next room can feel like they're listening in, even with headphones and a noise machine. If that sounds like you, try talking to your housemate(s) about how you're feeling. Gently let them know that you feel uncomfortable taking your therapy with them in the house, and that you don't see any other options that are quite private enough. Tell them how it impacts your sessions and your ability to be truly open, and ask if they'd be willing to step out during your call times. Maybe even offer to treat them to a coffee while they're out!
If you really can't keep a session this summer, there are many other great ways to keep your mental health routine in check.
Journaling: Ok ok… we have literally had people roll their eyes when we suggest journaling, but hear us out! Journaling can be whatever is beneficial for you, from scribbling notes and throwing them away to writing yourself encouraging notes in a jar to be retrieved when you need a boost. Maybe you keep a gratitude journal where you jot three things you're grateful for every day. Or maybe you want to rant and rave and release some of your emotions onto the page. Journaling can be whatever you want it to be, and it's different for everyone. That said, there is a ton of  research that shows a myriad of benefits to journaling. From lowering symptoms of anxiety and depression, to reduced blood pressure and improved immune system functioning. The benefits to journaling uplift both body and mind… so don't knock it 'till you try it!
Meditation: In the midst of a busy world, finding moments of stillness is essential. Meditation is a wonderful way to find space in the day, clarity in the mind, and peace in the body. Meditation has been scientifically proven to be all kinds of beneficial – reducing anxiety, improving emotional regulation, minimizing stress, increasing self-awareness, and much more. These impacts are actually measurable in the brain as meditation actually increases connectivity between the amygdala and the prefrontal cortex! With mindfulness becoming more popular, many think that meditation is just one thing: sitting quietly and feeling completely at peace with the stillness. The truth is, meditation comes in various forms, allowing you to tailor it to your preferences. Like journaling, meditation can be whatever works for you. From leveraging one of the many guided meditation apps, to taking a quiet nature walk, to simply being more aware of the present moment – like tuning into the scents and sensations while taking a shower. 
Mind your energy: One of the most common things we see around this time of the year is our clients spreading themselves too thin. Between travel, family, friends, work and more, it can be easy to overextend yourself… and hard to keep self-care in the mix. Summer often brings a sense of freedom, adventure, and a desire to seize every opportunity that comes our way. While it's fantastic to embrace new experiences and make the most of this vibrant season, it's important to also be mindful of our limits and make space for a recharge now and then. Spreading yourself too thin can lead to many negative consequences, before you even know it. Physical and emotional exhaustion, strained relationships, increased stress and anxiety, and missed opportunities for self-reflection.The best way to avoid spreading yourself too thin is by remembering to listen to your body and allow yourself moments of rest and rejuvenation. While it may be tempting to say yes to everything that comes your way, try to be more discerning about what is actually a good use of your (finite) energy. When we're busy trying to do it all, self-care is often the first thing to be neglected. Taking care of ourselves mentally, physically, and emotionally is essential for overall well-being. Make sure to carve out time for activities that recharge you, such as reading, practicing mindfulness, or spending quality time with loved ones. Take care of yourself, be kind to yourself, and make choices that align with your values and desires.
Go into therapy when you can!
Summer burnout is real. This time of year can be hectic and self-care can often fall by the wayside. There will likely be times when you won't be able to physically go into your therapy session, but it's important to go in when you are able.
Therapy is a journey, and consistency is key. Consistently attending therapy sessions, even during the summer, allows you to maintain the progress you've made. The therapeutic relationship and the insights gained over time are valuable assets that can support you through any season.
As you plan your summer adventures, consider the importance of therapy and the impact it can have on your mental well-being. Make an intentional choice to prioritize your growth, self-care, and overall mental health by continuing or starting therapy during this season. Talk to your counselor about adopting a more flexible schedule or even trying remote sessions.