Welcome back to our 2-part Summer Survival Newsletter! Last year, we focused on Summer Self-Care, but this year it's about getting through the summer with some balance. Last time, we vented about some common terminology. This week, we're focusing on finding moments for creating self-care and getting through the next hurdle before we face another unknown: The Fall.
​
​
Let's start by taking a moment of silence for your summer expectations… Thinking about that might exhaust you, and you may not feel like thinking about self-care or even reading this article. We get it. But we have also found that avoidance is often an indication that self-care is needed. Kind of like when you've been through a difficult time and you don't feel like showing up for your therapy appointment, but realize (or your therapist reminds you!) that's when you need it the most.
​
We are facing many losses during this time, which range from processing numbers of people dying from COVID-19, to the loss of summer plans. It can be easy to dismiss the latter category, but as you may have heard us say before, all losses are valid. The "small" ones are daily reminders about how restricted many of our lives are right now.
​
We are all doing our best to survive on many levels. We've seen many people surviving by reclaiming summer the best they can, from investing in above ground pools to weighing the risks versus benefits to vacationing.
​
​Which leads us to our favorite survival strategy: therapy. We hear from you, our clients, how necessary it is to cope right now, we reflect on how much we value our own therapists (yes, therapists see therapists!), and the mental health crisis paralleling the pandemic.
​
We know the importance of being here to hold your (metaphorical) hair back while you "emotionally vomit." We are honored to be here to hold space while you vent everything you don't want to spew at your friends or family anymore. While the world may seem stagnant right now, we've been hearing that our meetings have been alleviating depression and anxiety symptoms. There has also been research that the sooner we intervene on trauma (such as the collective trauma we're experiencing during this pandemic), the less negative effects it has on us long-term.
​
​
…the sooner we intervene on trauma (such as the collective trauma we're experiencing during this pandemic), the less negative effects it has on us long-term.
​
In between your sessions, it also helps to incorporate the small but significant things in everyday life that help keep us grounded. For example, are there ways in which you can incorporate the things you enjoy about being on vacation with your partner, such as watching the sunset and talking about anything other than logistics or the kids? Or you might open your senses to experience nature in ways that you may not have slowed down to do since you were a kid: Feel the breeze (or heat!) on your skin, watch the leaves blow through the trees, smell a strong flower, feel the grass on your feet, taste the cool ice water you have by your side.
​
Thanks for taking the time to listen to our take on Summer Survival. Feel free to respond if you have your own thoughts to add, or book today to get your vent on.
​
Your support around the corner,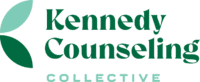 ​